Rabbi Visits 2019
Rabbi Visits 2019
Schedule for Rabbi Jonathan Hodson's Visit
Friday 3/15
· 12:15pm: Introductions & Campus Tour
· 12:45-1:30: Meet with Becky Bar-Lev Henning
· 1:45-2:30: Meet with Christa Mandel and Ron Harris
· 2:30-4:00: Break
· 4:30: Dinner with Board at congregant's home
· 6:00: Lead Kabbalat Shabbat services followed by formal Q&A -- change from previous weekends due to Gala on Saturday night
Saturday 3/16
· 9:30am Saturday morning service: Rabbi leads service
· Kiddush lunch with congregation
· 6:30pm: Ner Tamid Annual Gala, including havdalah led by Rabbi Hodson

Sunday 3/17
· 9:15-9:50am Q&A with Hebrew school parents
· 10-11am: Lead adult Torah study:
· 11:15-11:45: Activity with Hebrew school
· 11:45-12:15: Wrap up with Search Committee
Bio: Rabbi Jonathan Hodson - visiting March 15-17
Jonathan Hodson is in his fifth and final year at the Ziegler School of Rabbinic studies. Hailing from the state of Texas, Jonathan is a graduate of Texas State University and taught High School English before heading to California to pursue the rabbinate. He has been a USY advisor in two regions, taught Judaics at two different Ramah Camps, and has studied the laws of kashrut extensively in Israel and in the states.
An engaging speaker and story teller, Jonathan's vision for the rabbinate is to encourage Jews of all kinds to be the best versions of themselves through teachings, sermons and prayer. Jonathan has recently been selected by his classmates as the upcoming speaker at his rabbinic ordination and has served as scholar in residence for Federation of Jewish Men's clubs retreats. A proud supporter of Israel, Jonathan was accepted in Leffell Israel fellowship program and recently represented the Ziegler School in Washington DC at AIPAC's policy conference
Jonathan is the proud father of Josiah, and Phineas and husband of Genevieve. He currently serves as the rabbinic intern at Temple Aliyah in Woodland Hills California.
Bio: Rabbi Sammy Seid - visited March 8-10
Born and raised in Orange County, CA, Sammy Seid brings his Torat Chesed("A Torah of Loving Kindness") into all aspects of communal and personal engagement from prayer leadership and teaching, to social programming and relationship building. After earning a BA in History at UC Santa Cruz, and a Preliminary Teaching Credential at Cal State Fullerton, Sammy enrolled in the Ziegler School of Rabbinic Studies where has been blessed to learn from some of the finest teachers and rabbis. He will receive his M.A. of Rabbinic Studies and Rabbinic Ordination in May 2019 from the Ziegler School, where he has also served as the Admissions Coordinator since 2017, helping to usher in the next cohorts of our people's future rabbis.
As the rabbinic intern at Temple Beth El of South Orange County since 2017, Sammy enjoys many opportunities to engage community members of all ages. Sammy oversees the family learning programming of the religious school, leads the community in dynamic prayer experiences, serves as the youth director for the teen youth group, leads the monthly Tot Shabbat prayer service and other children's holiday services, and teaches adult education classes. Through all of these touch points, Sammy passionately strives to meet members of the community where they are and engage them more deeply in their Judaism.
Sammy and his wife, Heather Seid, a Cantorial Student at the Academy for Jewish Religion, along with their (almost) two-year-old daughter Winnie, are excited to get to know the community of Ner Tamid and its members. We look forward to meeting you!
Bio: Rabbi Michael Beals - visited March 1-3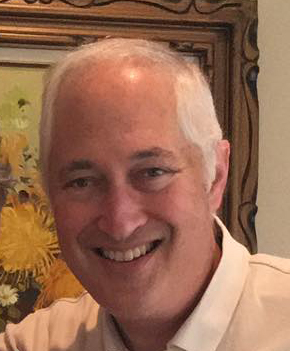 Rabbi Michael Beals has been with Congregation Beth Shalom since August 2004. He is a 1997 graduate of the Jewish Theological Seminary. Rabbi Beals is also a graduate of the University of Judaism in Los Angeles (MA Hebrew Letters), The American University in Washington DC (MA International Relations), and University of California at Berkeley (BA Political Science). He received the Raoul Wallenberg Fellowship at Hebrew University in Jerusalem. Beyond his accomplished education, Rabbi Beals has also worked in a variety of roles from serving as a management analyst developing multi-cultural training programs to working with young and old in programs of music therapy, Shabbat programming, and providing pastoral counseling and support to the sick and elderly and to the families that support them. In 2016, Governor Carney appointed Rabbi Beals as Chair of the Delaware Council on Faith-Based Partnerships. Rabbi Beals also serves on the Delaware Association of Rabbis and Cantors, the Board of the Kutz Home/Lodge Lane, and the Ninth Ward Interfaith Council. Rabbi Beals is a regular contributor to the J-Voice, Delaware's monthly, state-wide Jewish magazine

During Rabbi Beals tenure our Hebrew School has grown, we've established a nationally recognized Keruv Initiative - to welcome and support interfaith families, and re-established an active and involved Sisterhood and Men's Club. Also during his tenure, we have transformed our 1950s spiritual home to a modern, accessible, spiritual center and participated in the inaugural Sulam for Strategic Planning Program and Sulam for Emerging Leaders, both sponsored by the United Synagogue of Conservative Judaism (USCJ).

Rabbi Beals makes his home in North Wilmington, with his wife, Elissa, a trained house-call veterinarian and member of the Delaware Humane Association, and his children, Ariella and Shira. They are avid cat and dog lovers.
Mon, March 25 2019
18 Adar II 5779
Services Live
Click above on "Touch to Play" to listen live.
Office hours
Sunday - 9 am - 1 pm (During Hebrew School sessions)
Monday - closed
Tuesday - 9 am - 2 pm
Wednesday - noon - 5 pm
Thursday - 9 am - 2 pm
Friday - noon - 5 pm
Saturday - closed

Service Times
Friday Night
Friday Night Services

: 6:30p
Candle Lighting

: 6:48p
Shabbat Day
Saturday Morning Services

: 9:30a
Havdalah

: 7:37p
Parshat Shmini
Candle Lighting
Havdalah
Motzei Shabbat, Mar 30, 7:37p
Mon, March 25 2019 18 Adar II 5779