The PEAK: Same Great Peak, NEW DAY!
| | |
| --- | --- |
| Author | |
| Date Added | |
| Automatically create summary | |
| Summary | |
Peak of the Week 
 --------
January 19 2020- January 26 ,2020
22 Tevet - 29 Tevet 5780
 Friday (Erev Shabbat) Services: 6:30 PM
Saturday Morning (Shabbat) Services: 9:30 AM  Parashat Vaera
Sunday Minyan: 9:15 AM
Sunday Torah Cafe: No Torah Cafe 1/26 (Bi-Annual Member Meeting 1/26 at 10:15am)
---------
Same Great Peak, NEW DAY!


The Peak will now be delivered to your inbox on Sundays rather than Thursdays in order to give more advance notice to weekend events!
Have a great week!
January Mitzvah of The Month!
 MONDAY JANUARY 20th!
8:45 AM




Put on your Ner Tamid T-Shirt (available at the office) and join a diverse group of San Diego faith communities for hands on volunteer service in Balboa Park for the annual MLK Day Park Clean Up!
More information  here




Meet in Balboa Park at the Marston House, 3525 Seventh Ave. , corner of Seventh and Upas. 
Parking is available on Upas St.  off Sixth Ave.

Make it day on, not a day off!
Musical Shabbat THIS FRIDAY!




Join the Ner Tamid Band, Jon, Bob, and Heather as they bring thier rocking talents and wonderful souls to enrich our Shabbat! 
Playlist to include:
- Fools Rush In by Elvis (Yedid Nefesh replacement)
- Marry You by Bruno Mars (L'chah Dodi)
- Landslide by Stevie Nicks (Ma'ariv Aravim)
- At Last by Etta James (Ahavat Olam)
- Freedom by Aretha Franklin (Geulah)
- Soulshine by the Allman Brothers (preceding the amidah)
- Rock and Roll All Aight by KISS (closing song)
 USY (7th-12th Grade) Shabbat Services
Saturday January 25 
Services start at 9:30 AM
Toasts of L'Chaim at 10:30 (celebrating life together)



Nosh to be served throughout services as well as yummy kiddush lunch and games to follow!
view the flier here




Ner Tamid Bi Annual ALL MEMBER Meeting
 Sunday, January 26th 
10:15am
 for our bi-annual all-member meeting.

The agenda is as follows:

 Review of year to date (President's address) 

Discussion on & Vote on the slate of Board candidates

If you would like to vote by email in lieu of attending the meeting, please reply to this email by no later than noon Thursday, January 23. Reply must include your full name and whether you approve/disapprove the slate of candidates (in entirety or by individual).

Board Candidates for 2020-2022 
- President: Mark Baker
- Executive VP: Max Ader
- Ritual VP: Liliane Eichenbaum
- Operations VP: Chris Epstein
- Member at Large: Diana Finkelstein

The position of Immediate Past President will automatically be filled for one term by the outgoing president, Marisa Connell. Other Board positions remain unchanged (will be voted on in 2021).
Torah Study will be cancelled to allow members to attend the meeting
The Ner Tamid Annual Gala March 14, 2020
6:00 PM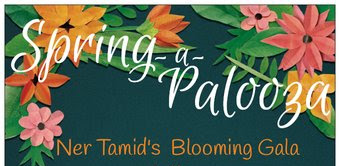 Interested in becoming an underwriter? Do you have a business, or know someone who does? check out our webpage here to see underwiriter and sponsorship options!


Full course outline available here
   Register for this course here
 Ner Tamid Members: $180 per individual, $250 per couple
    - Non-Members: $360 per individual, $500 per couple
Individual Course: $15

 January 21
Heart of Many Rooms: Understanding Jewish Diversity  
The Jewish People is not (and never has been) monolithic. Explore the many ways of being Jewish, and find where you fit in the Jewish story, in this conversation about identity, pluralism, and the value of difference.

This class is taught in partnership with the Louis & Judith Miller Introduction to Judaism Program at American Jewish University

For more information, call the office at 858 777-0256 or email info@nertamidsd.org

Thank you to Hedi Wolpoff for prep and Laurence Kruger and Erica Radway for clean up this past family shabbat
Thank you to Shari Michlovitz for making her delicious kugels and helping prep for Rosalie Taubman's memorial service
Thank you to Becky Thien and Brenda Cooperman for helping ion the kithcen to prep for Rosalie Taubman's memorial service
Thank you to Lea Jensen for organizing the tablecloths
We have a new Phone number!


We are currently upgrading our phone system our new number is:
 (858) 777-0256
Upcoming Events
February 8: Kiddush sponsored by Jenny Raz in honor of Jacob Raz 
February 14: Family Shabbat with Cara Freedman

Upcoming Hebrew School and USY/Kadima Dates
February 2, World Wide Wrap, Tefilin and Pancake Breakfast
February 9, Camp Mountain Chai will be present on campus if you have any questions
English Birthdays
Sunday
Jessie Cohen
Kayla Schaffroth

Tuesday
Boaz Clark
Leo Jassy

Friday
Laura Ifergan
Anniversaries
Thursday
Jeffrey and Lori Simmons
Refuah Shleimah
 Josh Burns, April Stokes, Jessica bat Jean, Brian ben Alice, Emma bat Josephine, Dana bat Chava, Michele bat Virginia, ​​​​​Chaim Leib ben Martyl, Lab ben Esther, Robert Cohen, Itta Masha Bat Nechuma Ella, Sanci bat Esther v'Natan, Toby Cohen, Donald ben Violet, Basha bat Brendel, Sarci Cohen Michael, Thelma Press, Yamit Rachel bat Aharon Shimon v'Miryam Shoshanah, Kova Sheina bat Pesha,  Dovid ben Mariam, Charles Clark, Jack Mandel, Tim Gallivan, Charlie Riemer, Benny Ammar , Judy Mandel,Cynthia Friel
Yahrzeits
Sunday
James Jacoby for father Herbert Edward Jacoby
Laurence Kruger for Father Ellis Kruger

Monday
Lorraine Waldman for brother in law Morris Waldman

Tuesday
Erica Radway for Father Ronald Radway

Friday
Sara Raif for Husband Eugene Raif

Shabbat
Joan Levinson for Husband Samuel (Sam) Levinson
Lorraine Waldman for father in law Louis Waldman
Teresa Whitten for husband Paul Whitten
We continue to remember 
 Shamsi Shemirani, David Epstein, Harold Reisman, Aleksander Usach, Joe Schneiderman, Rabbi Hershel Brooks, Mark Olkon, Rosalie Taubman
Ner Tamid Synagogue
12348 Casa Avenida
Poway, CA 92064
Thu, February 27 2020
2 Adar 5780
Services Live
Click above on "Touch to Play" to listen live.
Call: (858) 777-0256
Office Hours
Sunday - 9:00 AM - 12:15 PM
Monday - Closed
Tuesday - 11 AM - 4 PM
Wednesday - 11 AM - 6:00 PM
Thursday - 11 AM - 4 PM
Friday - 11 AM - 4 PM
Saturday - Closed

Service Times
This week's Torah portion is

Parshat Terumah
Candle Lighting
Havdalah
Motzei Shabbat, Feb 29, 6:15p
Thu, February 27 2020 2 Adar 5780