The Peak: Fulfill Two Mitzvot With One Hammer This Sunday!
| | |
| --- | --- |
| Author | |
| Date Added | |
| Automatically create summary | |
| Summary | |
Peak of the Week 
 --------
October 12 - October 19, 2019
13 Tishrei - 20 Tishrei 5780
 Friday (Erev Shabbat) Services: 6:30 PM
Saturday Morning (Shabbat) Services: 9:30 AM Parashat Ha'Azinu
Sunday Minyan: 9:15 AM
***No Torah Study until Oct 27th***
---------
This Sunday! Fulfill TWO Mitzvot with one hammer!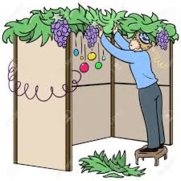 THIS SUNDAY we will start our holy work of building the Sukkah at 9:00 AM. Additionally, we will be taking advantage of a day with our tools already out to fix a few things around the campus, fulfilling the mitzvah of building the Sukkah AND the mitzvah of caring for our permanent structure!


Please join us at 9:00 AM just after dropping the kids off at school or join us after minyan!
Click here for a list of tasks and sign ups
9am-1pm **pizza at noon**

Continuing on with Sukkot!
Sunday, 10/13: Sukkot Ma'ariv and Dinner in the Sukkah 6:00 PM. After working hard fixing up our campus and building the Sukkah, Join the Ner Tamid community with a potluck dinner in the sukkah! Please bring a dairy kosher dish to share!
Monday 10/14: 9:30 AM Sukkot Services 
Monday 10/21: 9:30 AM Shemini Atzeret
Monday, 10/21: 5:15 PM Simchat Torah Celebration (Candy bar for the kids and drink bar for the adults!)
Dedication of our new Children's Sefer Torah!
October 12, Shabbat Morning


Join us to celebrate our new Children's Sefer Torah, generously donated by Wendy and Charlie Lupul!
Bring the kids for a turn to carry our new Torah Scroll, sized for the smallest (but mightiest) members of our community!


Pastrami Making Workshop
 Did you ever want to learn how to make pastrami or corned beef and/or did you ever wonder why a sandwich at Langer's is so dang expensive? Join Max and Doug to find out and make your own pastrami to take home at this 3-part workshop on Sundays October 20, October 27, and November 3, at Max Ader's house.  For more information and to RSVP, please click here .



Thank you to the Spectors for their donation of several Ḥumashim
English Birthdays
Shabbat:
Max Ader
Monday
Elaine (Lanny) Ladis
Ginny Shabatay
Wednesday:
Chuck Gourley
Friday:
Liliane Eichenbaum
No Anniversaries this week
Yahrzeits
Sunday
: Victor Polansky for Brother Jack Polansky
Wednesday:
Andrew Spector for father William Spector
Thursday:
Anton Muela for father Larry Muela
Friday:
Teresa Whitten for grandmother Dora Adler
Upcoming Events
October 19, 9:30 AM Bar Mitzvah of Monte Mandel
October 21: 5:15 PM Simchat Torah Celebration
November 2: 7:00 PM Corks and Community
November 23: 9:30 AM Rabbi Installation more details to come

Refuah Shleimah
 Josh Burns, April Stokes, Jessica bat Jean, Brian ben Alice, Emma bat Josephine, Dana bat Chava, Michele bat Virginia, ​​​​​Chaim Leib ben Martyl, Lab ben Esther, Robert Cohen, Itta Masha Bat Nechuma Ella, Sanci bat Esther v'Natan, Toby Cohen, Donald ben Violet, Basha bat Brendel, Sarci Cohen Michael, Thelma Press, Yamit Rachel bat Aharon Shimon v'Miryam Shoshanah, Kova Sheina bat Pesha, Fran Brint, Dovid ben Mariam, Charles Clark, Jack Mandel, Tim Gallivan, Charlie Riemer, Benny Ammar 
We continue to remember 
Sam Levinson, Gloria Goldstein, Paul Schauder, Shamsi Shemirani, David Epstein, Harold Reisman, Aleksander Usach, Joe Schneiderman
Ner Tamid Synagogue
12348 Casa Avenida
Poway, CA 92064
Wed, February 26 2020
1 Adar 5780
Services Live
Click above on "Touch to Play" to listen live.
Call: (858) 777-0256
Office Hours
Sunday - 9:00 AM - 12:15 PM
Monday - Closed
Tuesday - 11 AM - 4 PM
Wednesday - 11 AM - 6:00 PM
Thursday - 11 AM - 4 PM
Friday - 11 AM - 4 PM
Saturday - Closed

Service Times
This week's Torah portion is

Parshat Terumah
Candle Lighting
Havdalah
Motzei Shabbat, Feb 29, 6:15p
Wed, February 26 2020 1 Adar 5780