The PEAK: Family Shabbat With Cara Freedman This Friday!
| | |
| --- | --- |
| Author | |
| Date Added | |
| Automatically create summary | |
| Summary | |
Peak of the Week 
 --------
February 9, 2020- February 16 ,2020
13 Sh'vat - 20 Sh'vat 5780
 Friday (Erev Shabbat) Services: 6:30 PM
Saturday Morning (Shabbat) Services: 9:30 AM  Parashat Yitro
Sunday Minyan: 9:15 AM
Sunday Torah Cafe: 10:15
---------
Family Shabbat With Cara Freedman!
Dinner at 6:00 Services at 6:30


Join the families from the Hebrew School and welcome Shabbat with Cara Freedman!
Daf Yomi Group Chat: Tons of Talmud
February 15, 12:00pm-ish (during Kiddush Lunch after Services)
First of Ner Tamid's Monthly Daf Yomi Discussion Group
Daf Yomi ("daily page")



By studying one page of Talmud per day, you can read the entire Talmud in only 7 years and 5 months. Come join us, whether you have been participating in Daf Yomi or not, to learn and share in open discussion of Talmud. Span of pages that have been completed in Daf Yomi since the cycle began are Berakhot 2-42. Stay for lunch and learn more!
The Ner Tamid Annual Gala March 14, 2020
6:00 PM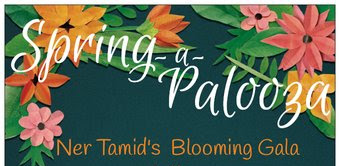 Do you have a business, or know someone who does?
Please consider advertising, referring a friend to advertise, or underwrite the gala this year!
This year's gala fundraising goal is 
$40,000
and we need YOU to help make that happen!
Through your ongoing generosity, we continue to offer outstanding Hebrew school education, innovative programming for all ages, and meaningful, creative Shabbat & holiday services.

Check out our webpage here to see underwriter and sponsorship options!


Full course outline available here
   Register for this course here
Individual Course: $15

 February 11
When Do I Bow? And Other Questions About Jewish Prayer  
One famous mystic taught that just as important as the black letters on the page are the white spaces that surround them. In this class, we'll explore the meaning and depth behind Jewish spiritual language, as well as the sometimes confusing choreography and customs of the synagogue.

This class is taught in partnership with the Louis & Judith Miller Introduction to Judaism Program at American Jewish University

For more information, call the office at 858 777-0256 or email info@nertamidsd.org
Ner Tamid Caring Committtee


Life happens!  We support each other through life's ups and downs.  Would you like a visit or phone call?  Do you know of someone who would benefit from a visit or phone call?  We are here to support our Ner Tamid community.  Please contact the office at (858)777-0256 or info@nertamidsd.org for more information.  
We have a new Phone number!


We are currently upgrading our phone system our new number is:
 (858) 777-0256
Watch Out For A  Suspicious Email From Rabbi Sammy
There is an email circulating impersonating Rabbi Sammy and asking for a reply.
DO NOT REPLY TO THIS EMAIL!
If you receive an email from Rabbi Sammy that has NOT come from his synagogue email address, please forward it to info@nertamidsd.org
Upcoming Events

February 21 6:30 Community Shabbat (dinner served after services)
February 21 - 22: Scholar In Residence Weekend with Rabbi Raanan Malek
March 9: 5:30 PM Purim Celebration! Megilla Reading, costumes, food and drinks (alcoholic and non aloholic drinks will be served) 

Upcoming Hebrew School and USY/Kadima Dates
February 16 and 19: No Hebrew School
February 28, 7:30 Kadima Shabbat Club 

Thank you to Myla Kelly for her donation towards security
Thank you to Arnie and Lanny Ladis for their donations in honor of the engagement of Matthew, Son of Terry Whitten, and the birth of Solomon Dani Shemirani
English Birthdays
Friday
DeeDee Goodman
Dr. Harvey Yurow

Shabbat
Shimshon Shvil

Tuesday
Erica Radway
Anniversaries

Wednesday
Ben and Wendy Nassery
Yahrzeits
Friday 2/14
Naomi Judith for Father Elija Olkon
Shahla Rabinowitz for Mother Mohtaram Ghaddishah

Shabbat 02/15
Victor Polansky for Brother Nat Polansky

Sunday 02/16 
Mark Perlmutter for mother Marion Perlmutter
Myla Kelly for Friend Beth Ozer

Monday 02/17
Max Ader for grandmother Ernestine Birkenfeld

Thursday 02/20
Rae Harvey for husband Joseph Harvey
Refuah Shleimah
 Josh Burns, April Stokes, Jessica bat Jean, Brian ben Alice, Emma bat Josephine, Dana bat Chava, Michele bat Virginia, ​​​​​Chaim Leib ben Martyl, Lab ben Esther, Robert Cohen, Itta Masha Bat Nechuma Ella, Sanci bat Esther v'Natan, Toby Cohen, Donald ben Violet, Basha bat Brendel, Sarci Cohen Michael, Thelma Press, Yamit Rachel bat Aharon Shimon v'Miryam Shoshanah, Kova Sheina bat Pesha,  Dovid ben Mariam, Charles Clark, Jack Mandel, Tim Gallivan, Charlie Riemer, Benny Ammar , Judy Mandel,Cynthia Friel
We continue to remember 
 Shamsi Shemirani, David Epstein, Harold Reisman, Aleksander Usach, Joe Schneiderman, Rabbi Hershel Brooks, Mark Olkon, Rosalie Taubman
Ner Tamid Synagogue
12348 Casa Avenida
Poway, CA 92064
Thu, February 27 2020
2 Adar 5780
Services Live
Click above on "Touch to Play" to listen live.
Call: (858) 777-0256
Office Hours
Sunday - 9:00 AM - 12:15 PM
Monday - Closed
Tuesday - 11 AM - 4 PM
Wednesday - 11 AM - 6:00 PM
Thursday - 11 AM - 4 PM
Friday - 11 AM - 4 PM
Saturday - Closed

Service Times
This week's Torah portion is

Parshat Terumah
Candle Lighting
Havdalah
Motzei Shabbat, Feb 29, 6:15p
Thu, February 27 2020 2 Adar 5780